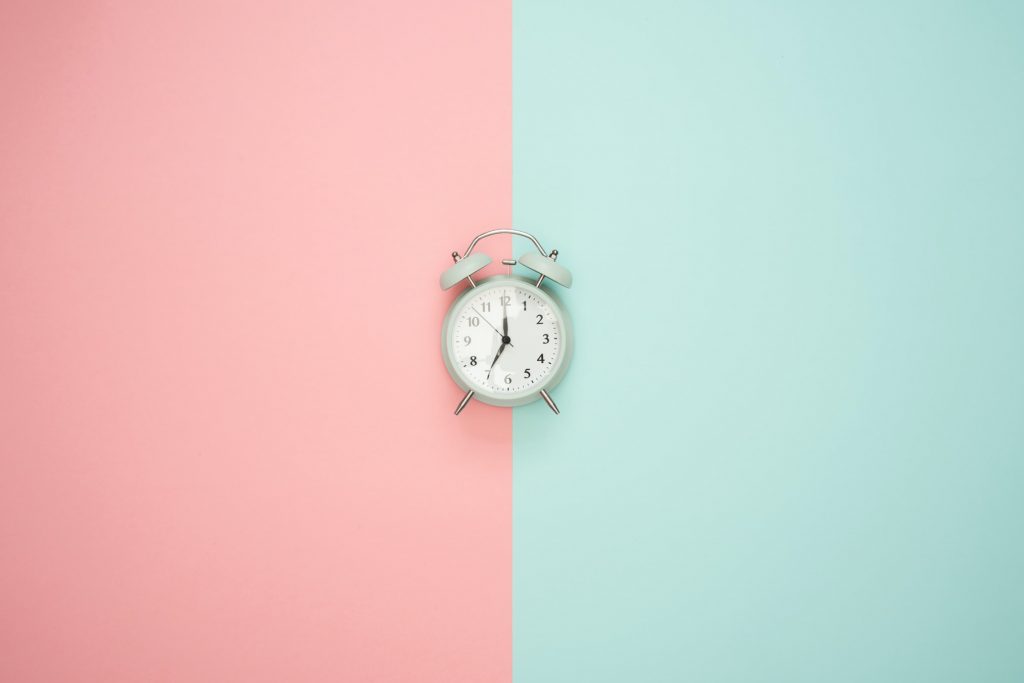 While users are "googling" everything they need, basically from products to services, how can you, as business owners, stand against the irresistibility of Google My Business Listing?
You should not, and we have got some solid proof about it.
Google keeps track of nearly a billion searches per month.
There are 3 billion hotel search inquiries and 5 billion searches for restaurants, 1 billion searches for retail stores, and 600 million hairdresser searches on the internet.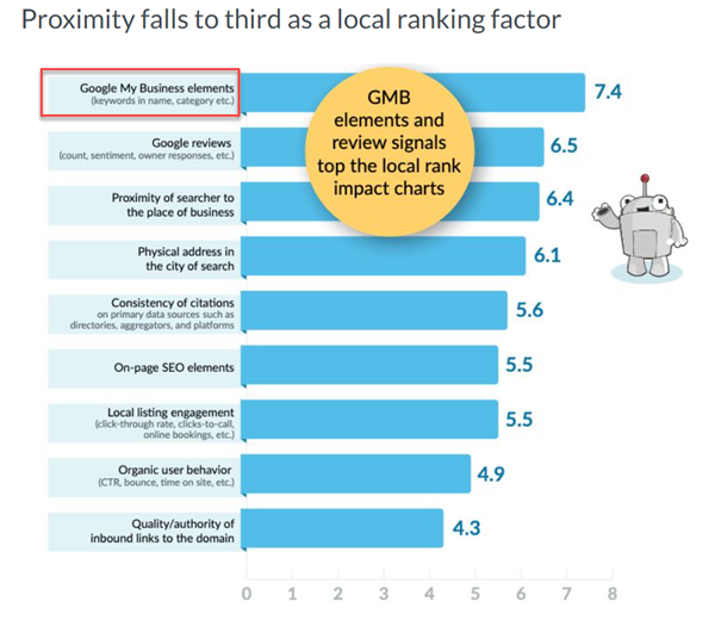 Local SEO is the new way of marketing in the neighborhood! Source: Moz
You will see that, as Google stated, your products and services are more likely to appear in Google search results.
New additions in Google My Business might help local businesses improve their GMB listings and rank higher in local searches.
The optimization process of your Google My Business listing will be observed in Google Maps results.
It now allows you to add categories, attributes, post updates, send direct messages, schedule Google My Business posts, and answer user questions.
It essentially performs the functions of a conventional website, except all data is saved in Google, which is great from the SEO perspective.
Tools to schedule Google My Business posts are now available and turns GMB into another social media platform to manage effectively.
Google My Business allows you to go above and beyond for your company!
Your local marketing journey does not begin and end with a Google My Business listing. However, it may be the most popular SEO approach in recent years, and it can benefit your business in various ways.
How to schedule Google My Business posts?
Circleboom Google My Business Scheduler works like magic if you want to control your Google My Business presence. Yes, it promises mainly to schedule GMB posts in advance. Yet, it helps you through the journey. Even more, you can queue up multiple posts in a row and forget about posting them.
Thanks to its lovingly user-friendly interface, you can easily schedule posts for multiple Google My Business accounts from the same dashboard.
Step #1: Log in to Circleboom Publish first.
If you don't already have an account, it only takes a few minutes to join up for Circleboom Publish.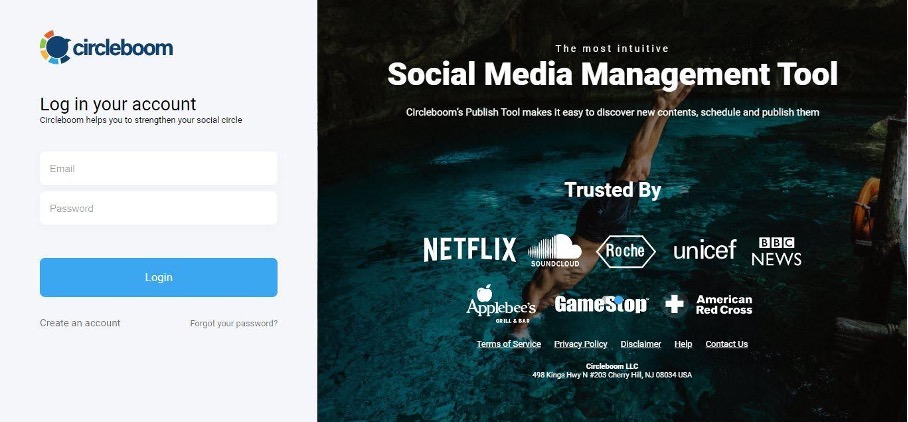 Alt-text: Circleboom Publish log-in screen to manage all social media in one place
Step #2: Here, you will see various account options to add to the Circleboom dashboard, including Google My Business, Instagram, Facebook, Twitter, LinkedIn and Pinterest.
To access the Google My Business scheduler page, select Google My Business from the drop-down menu.
Circleboom Publish is the web's most user-friendly Google My Business scheduler!
Step #3: To continue, authorize Circleboom Publish to link your Google My Business page to its smart dashboard.
As a result, your Circleboom Publish dashboard will include your GMB page.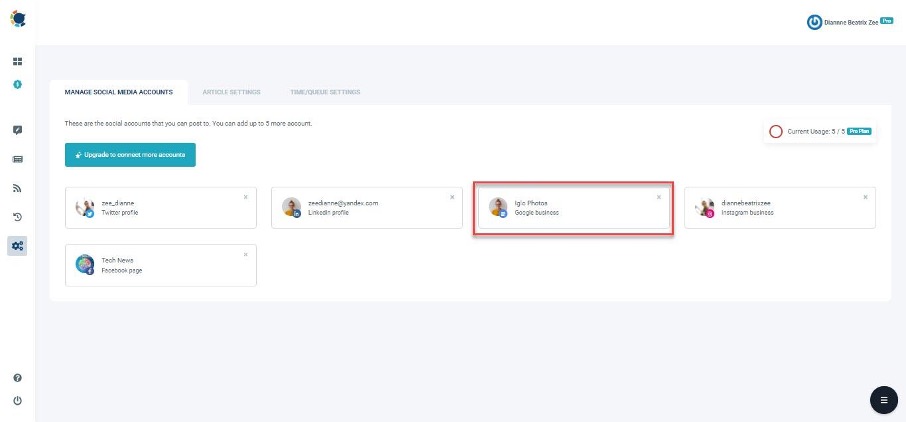 Step #4: After you have uploaded your Google My Business page or pages, go to the left-hand bar and select "Create New Post" to launch Circleboom Publish's Google My Business scheduler.
Circleboom Publish has many tools that make managing social media easier.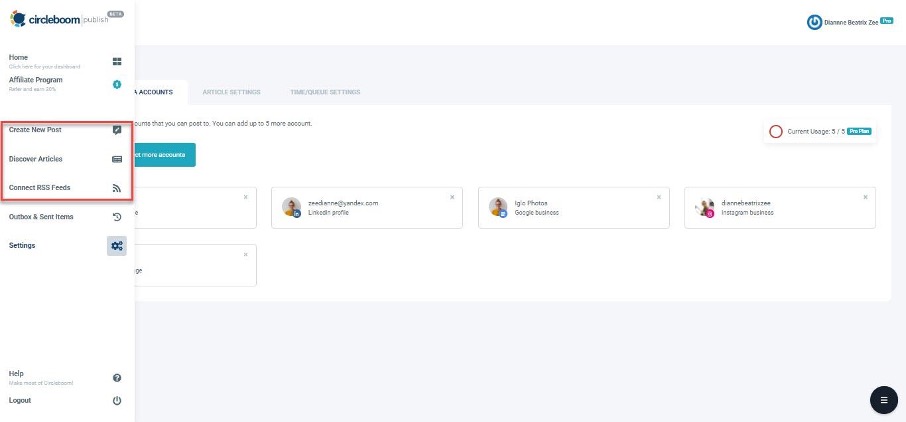 Pro Tips: As you can see from the menu, there will be options such as "Discover Articles," which will allow you to browse sectoral, business, or news articles from thousands of sources throughout the web in multiple languages. You may also use the "Connect RSS Feeds" tool to link your preferred RSS Feeds to Twitter, Facebook, Linked In, Google My Business, and Instagram to build RSS automation!
Create a New Post: You may produce and edit your posts using Circleboom Publish's special, built-in social media post design feature of Unsplash, Giphy, and Canva!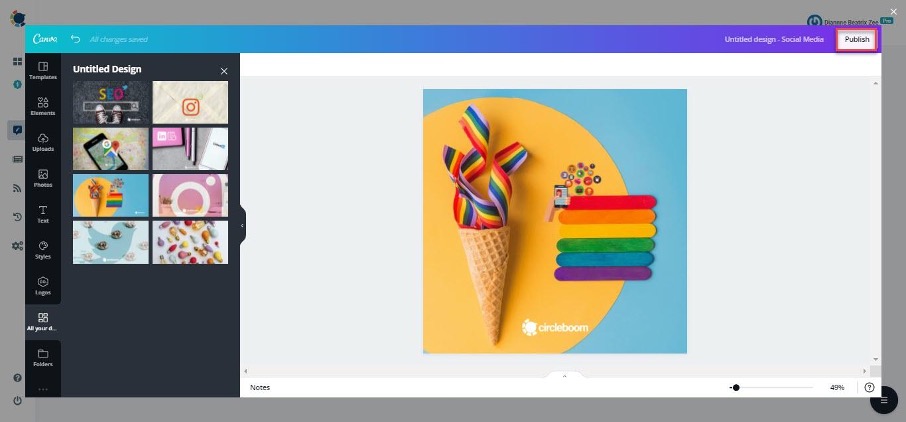 Discover Articles: In 11 different languages, you can curate industry, business, and market topics from 200,000+ sources. After that, browse your customized content curation page based on your interests.
Connect RSS Feeds: Connect your preferred RSS Feeds to Google My Business to set up RSS automation!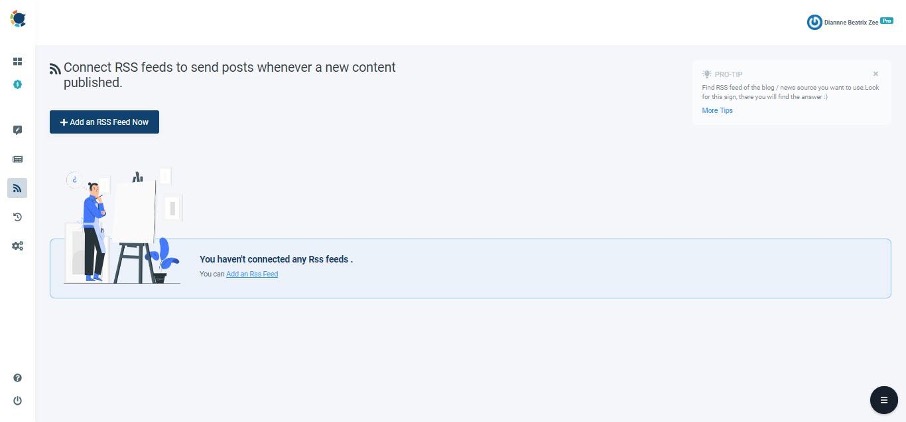 Step #5: If you go to the Google My Business scheduler page, select your Google My Business profile from the Create New Post screen.
You might wish to make use of the multi-profile option, which allows you to create many Google My Business profiles and post simultaneously (up to 5 in Pro subscription).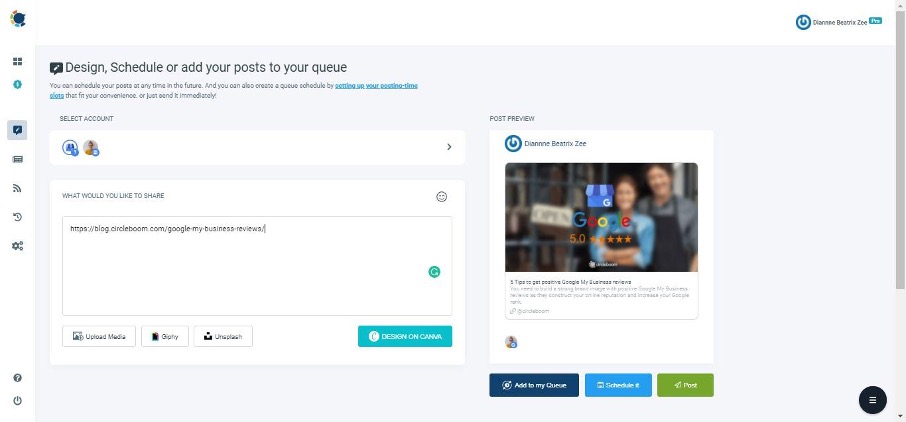 You may also notice the "Select by Group" button. You may use this to combine your clients' Google My Business profiles and manage several Google My Business accounts in one place!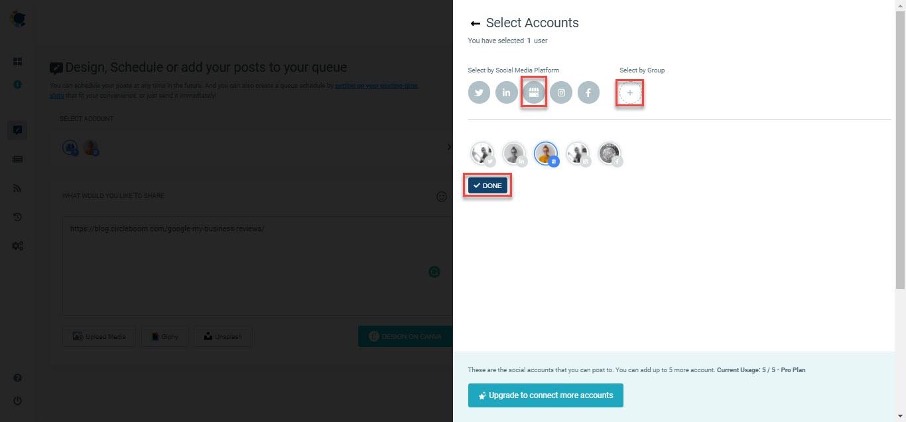 Step #6: Once you have picked which accounts to post to, you can start writing captions and previewing your posts on the right!
When you are finished, utilize the icons just beneath the Post Preview to schedule, add to queue, or post to Google My Business right away. That was it!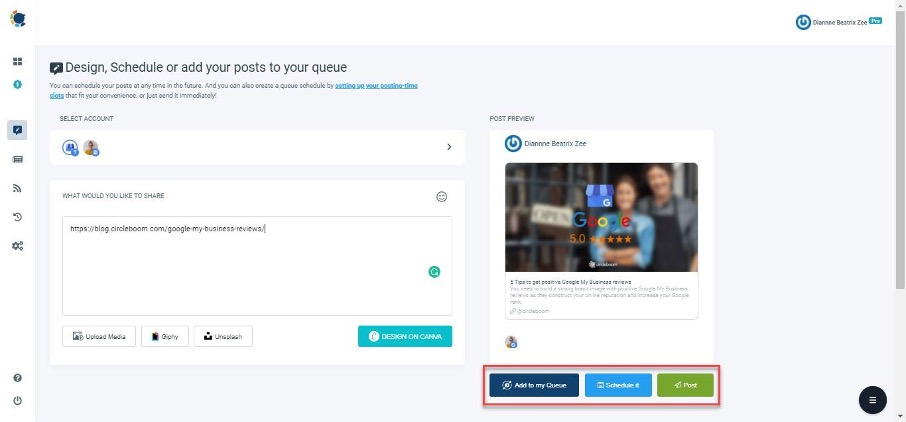 Choosing to schedule Google My Business posts will open below Google My Business scheduler calendar.
Here select the date and time and then forget it!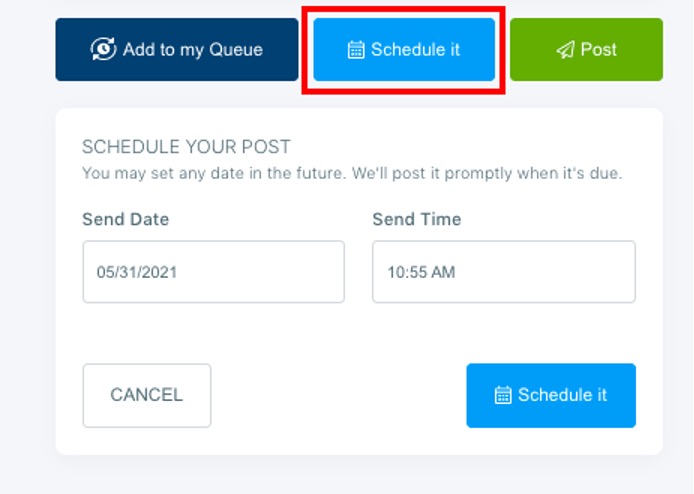 How to auto-post to Google My Business – using the "Add to My Queue" feature
As we mentioned up there, you can automize posts to GMB and set their posting frequency based on certain time intervals and days.
Here let's look at how to add a post to the queue with the Discover Article feature.
Step 1: Go to the "Discover Articles" option on the left-hand menu.
Continue by clicking on it.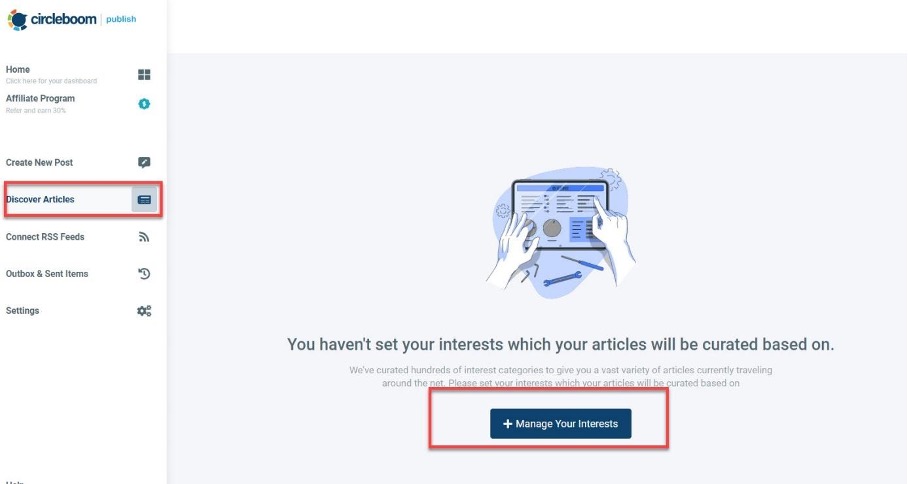 Step 2: Go to "Manage Your Interests" and click it.
You can either use the "interests template" on the right-hand side or type your topics into the search bar to narrow down your options.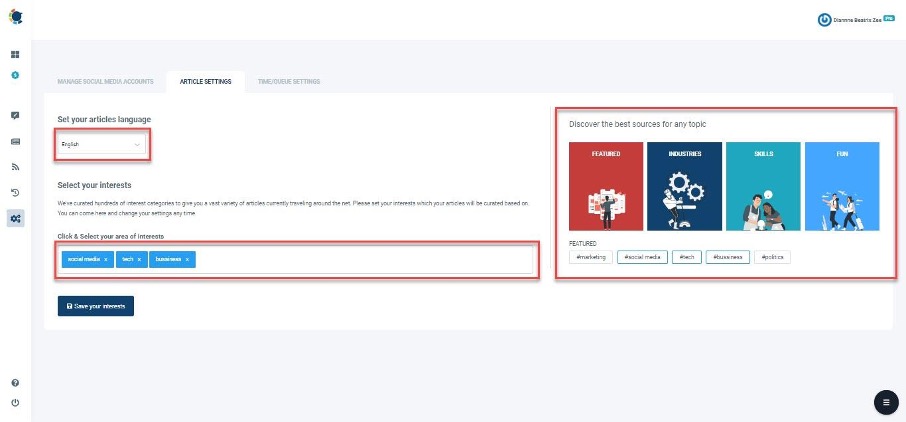 Step 3: This is your personalized article curation page.
You can browse the most popular articles in your interest categories and select your favorites to share on your GMB account.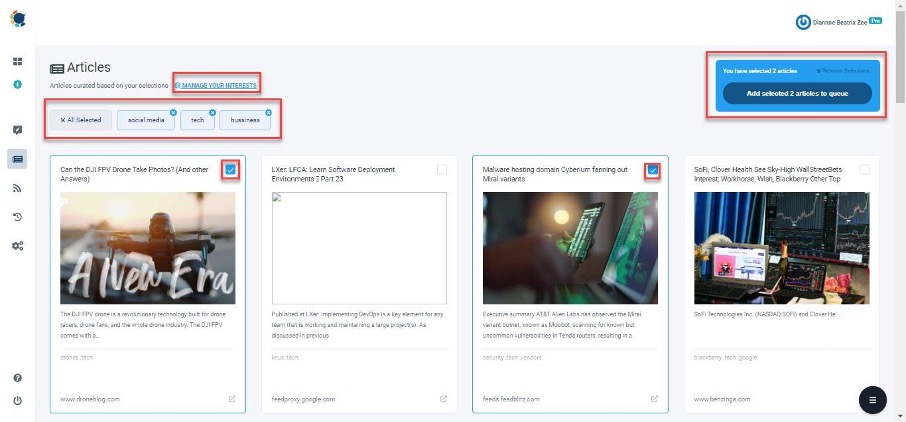 Click the little box in the right corner of the article to choose it. Then, on the blue pop-up, click "Add selected items to the queue."
Step 4: You need to choose the GMB account or accounts you want to post here on the next page, then click "Add to my Queue."
There is a "Select by Group" button, as you can see. You can group your clients' many GMB accounts to manage them all in one location!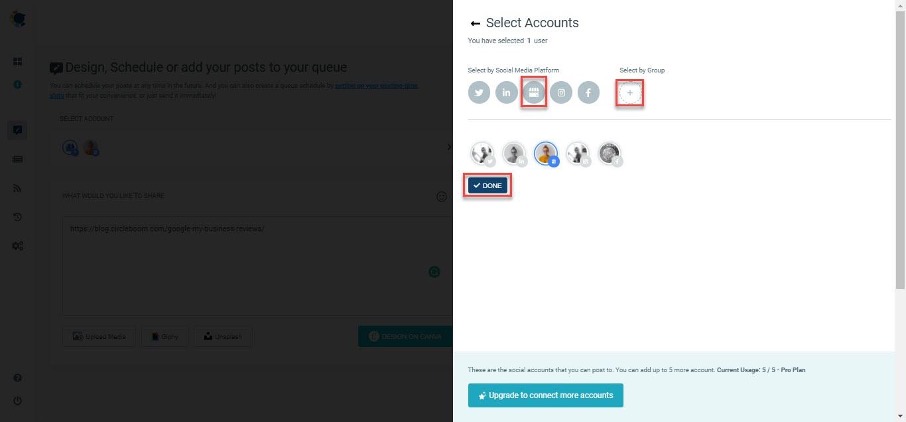 Step 5: Now, it is time to set up your queue settings; it only takes a few seconds.
Continue by pressing the "Go to Queue Settings" button.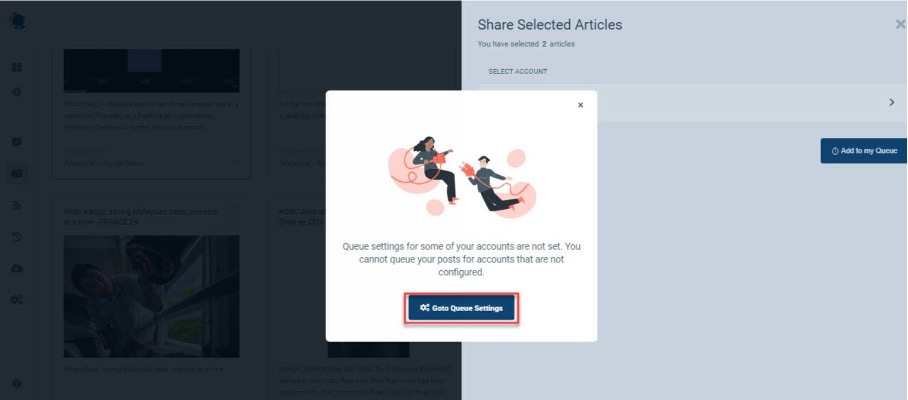 Step #6: Define your time zone on the first dashboard, then queue information and intervals as needed.
If these queue options are not enough, click on "Create Advanced Plan" to create a more specific queue plan.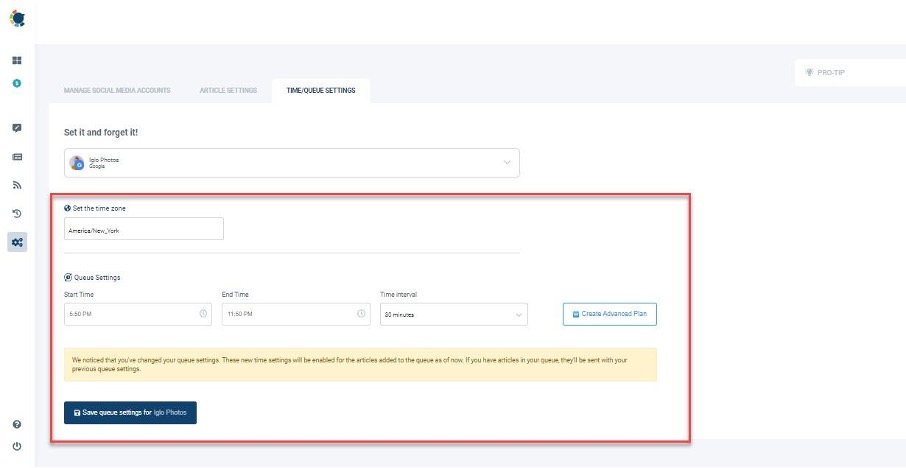 You can either set your queue plan for weekdays, weekends, or certain days of the week with Advanced Plan.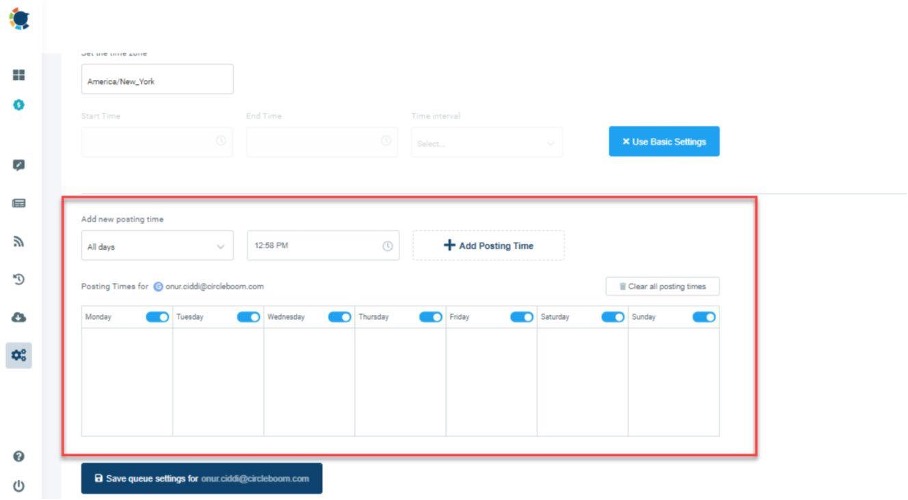 Using Google My Business to Manage and Schedule Posts
Like other social media channels, Google My Business pages quickly have become a new medium for posting about your company or brand.
You can also read this blog posts for some detail about scheduling google my business posts.
What do you mean by that?
A Google My Business listing is a more efficient and cost-effective approach to receive targeted exposure on the world's most popular search engine. Creating, publishing, and checking your listing costs nothing, and customizing your profile takes less time.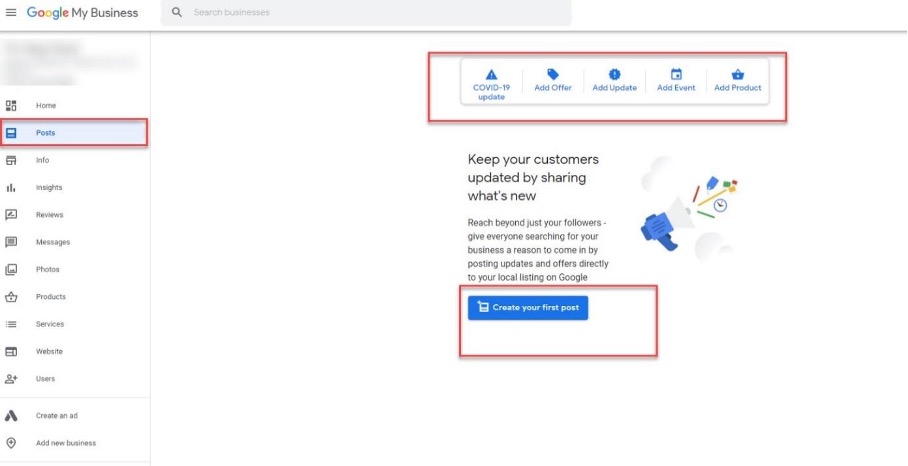 It's a very successful SEO approach, especially for local SEO, and it can be used as a free Google ad if done correctly.
Share unique discounts or current promotions with new and existing consumers daily to encourage them to take advantage of your offers.
Customers will be kept up to date on new releases, and events should be publicized.
The best-selling items and new arrivals can be highlighted.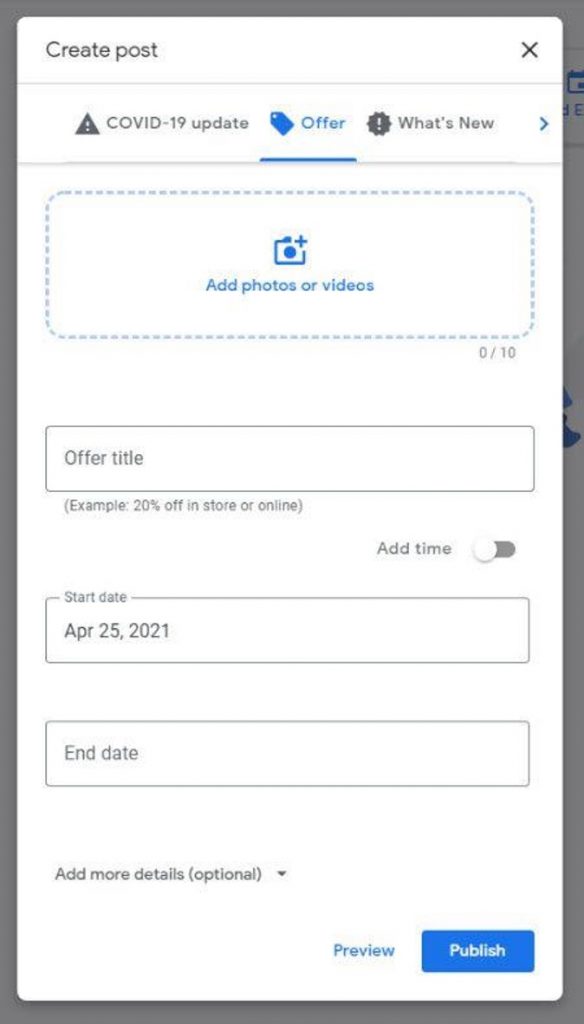 Choose one of the numerous call-to-actions to help you communicate with customers right away from a Google Post. Allow customers to book a table, sign up for a newsletter, and learn more about current promotions.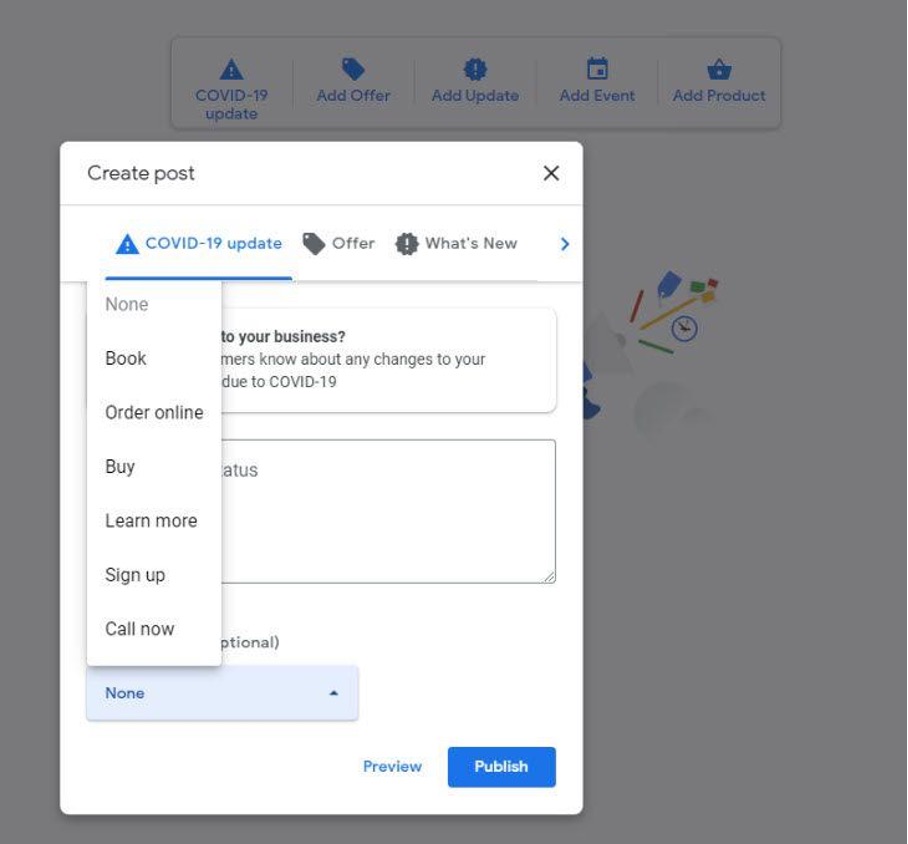 Final Verdict
Efforts to optimize Google My Business will not be in vain. You can schedule your Google My Business postings throughout the week using easy-to-use tools like Circleboom social media scheduler and keep your profile active! They'll help you improve your local search rankings, impressions, and website traffic over time.
Our step-by-step guide will show you how to plan Google My Business posts to improve your Google rankings, engage with customers, strengthen your online presence, generate more leads, and relieve yourself from the time-consuming task of managing multiple GMB accounts.
Circleboom is the social media management partner of choice for many businesses and non-profits, including the BBC, Netflix, and the Red Cross.
Circleboom Publish provides you its Facebook Post Scheduler, Twitter Scheduler, Instagram Post Scheduler and Google My Business Scheduler in one tool!
You can manage all your social media in one place! One dashboard, less effort
Start creating, developing, and automating your content today!